Delle cicale e delle formiche
È arrivata l'estate e il crì crì estivo delle cicale si fa assordante.
Le formiche invece sono al lavoro per prepararsi per l'inverno.
Per fortuna le formiche hanno ottimo sense of humor: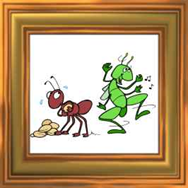 RMS claims that:

1) it's good to write C# implementations like Mono, to encourage people to run their C# on a free platform like Debian; but

2) we should discourage people from writing C# software by making it hard to run, so Mono shouldn't be on the default Debian install.

So it should be possible but not easy to run C# programs. Yep, sounds like Linux.
Complimenti a bluegrama, l'autore del commento per il nuovo motto: Linux, everything is possible but just not easy.

E come diceva Confucio, a 20 milioni di sviluppatori .Net di RMS non frega assolutamente una mazza.

-quack
P.S. sia chiaro, mi sento formica anche io. Potrei sbagliarmi?