Italo americani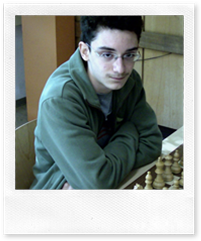 Da Wikipedia:
Fabiano Caruana was born on July 30, 1992 in Miami, Florida of an Italian-American father and an Italian mother. At age 4 his family relocated from Miami, Florida to Park Slope, Brooklyn. Coincidentally, this was the same neighborhood where Bobby Fischer lived during his youth. At age 5, his chess talent was discovered in an after school chess program at Congregation Beth Elohim in Park Slope, Brooklyn, and he played his first tournament at the Polgar Chess Center in Queens, New York.
Up to the age of twelve, he lived and played in the United States, with occasional travel to European and South American tournaments.
His first chess coach, at age 6, was National Master Bruce Pandolfini, who was famously portrayed by Ben Kingsley in the 1993 film Searching For Bobby Fischer. And from ages eight to twelve he studied with Grandmaster Miron Sher. In 2004 at age twelve, he relocated with his family from Park Slope, Brooklyn to Madrid, Spain to pursue chess in a more serious manner. He trained first with International Master Boris Zlotnik in Madrid, and later with Grandmaster Alexander Chernin (his current trainer) in Budapest.
At age fourteen Caruana became the youngest ever Grandmaster of both the United States and Italy (surpassing the record in the United States set by Grandmaster Hikaru Nakamura). He currently lives in Budapest, Hungary, and plays for Italy.
Da appassionatissimo di scacchi non posso che ammirare. Tra i top 100 a livello mondiale, Fabiano ha appena 17 anni…

-quack