Sono in ferie...
...ma solo per due giorni

.
Mentre cazzeggiavo sul desktop di casa ho trovato questa immagine carinissima: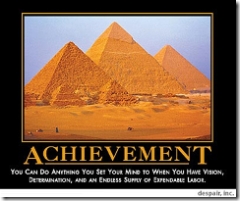 Achievement: you can do anything you set your mind to when you have vision, determination and an endless supply of expendable labor.
Un premio a sorpresa a chi riesce ad indovinare il riferimento nascosto in questa immagine.